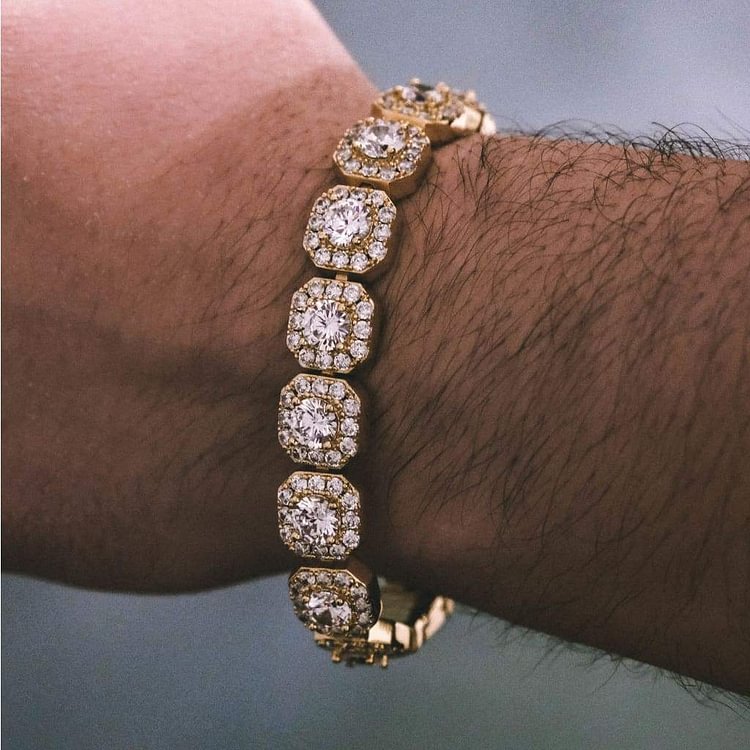 The finely-crafted Tennis Bracelet in modern style brings marvelous round-cut diamonds together with 5 times gold plated metal for a long-lasting and brilliant look. Wear it alone or collocate it with other Vessful bracelets and rings for the perfect balance of fashion and style. Be sure to choose the perfect fitting bracelet for your wrist size.

Details
Metal

: 18K Gold/White Gold Plated
Metallic Color: Silver, Gold
Band Width: 11 mm

Total Carat Weight: 8.46ct
Size Guide
We have already listed some steps for you to choose your right size bracelets. Please bear in mind that the more charms you add to your bracelets, the tighter it will become.
Step 1: Use the tape measure or a strip of paper to measure your wrist.
Just wrap the soft tape measure around the broadest part of your wrist and take note of the length. If you are using a plain strip of paper, mark your size with a pen or pencil then use a ruler to measure the length (The starting end of the paper must be at the base of the ruler and marked 0). That would be your wrist size.
Step 2: Add one inch, or 2.5 centimeters, onto this measurement to get the final length of your bracelets.
Please make sure there's enough space to tuck in 2 fingers as this is the space you need to add the charms. If you want to add less than seven charms, add 2 centimeters are ok. If you plan to wear eight or more charms, please add 3 centimeters. If you purchase a bangle, just choose the next size from your actual wrist measurement.
Please note, that due to COVID-19, many shipping companies are prioritizing the shipments and receiving of emergency and necessary medical equipment. This could mean that your package maybe withheld with the shipping company for an extended period of time which would lead to longer wait times and delays. We hope you understand, as this is something completely out of our control.

All our products are shipped and delivered by well known companies across the United States such as UPS, USPS and DHL.

All orders are processed within 1-2 business days (excluding weekends and holidays) after receiving your order confirmation.

We offer only one type of shipping: Free Shipping 3-5 business days(excluding weekends and holidays).

After processing your order, free shipping takes around 3-5 business days(excluding weekends and holidays) to arrive at its final destination.

To pack every single order, we use strong boxes with internal protection to guarantee safety through shipping process.

If you received a tracking number via e-mail, it means that your order has been processed and shipped to the distribution facility. As soon as your tracking information changes from "On Its Way" to "In Transit", it only takes about 3-5 business days to arrive for Shipping.

We cannot change the delivery address once it is in transit. If you need to change the place to deliver your order, please contact us within 1 day of placing your order at [email protected]

If you want to track your order please visit the following: https://www.zulabox.com/pages/order-tracking?spm=..page_2587837.footer_1.1&spm_prev=..page_2587837.footer_1.1
If you have any questions, send us a message at our email address: [email protected]
.
Contact Info
Email: [email protected]
Phone: +86 155 2120 0774
Support: Monday to Friday 9:00am – 6:00pm
Address: 119, Room 2112, No. 20, Mingyue Road,
Yuexiu District, Guangzhou, Guangdong 510600, China